From Grief to Doing Good:
The Story of the Dolphin Commemorative!
From Molly Lavik
Advisor to PORTL
On May 12, 2018 my beloved husband passed away. To deal with the grief I enrolled in a personal growth and development course during the summer of 2018. In this course my friend and an extremely gifted artist Nicole Buffett was present. I was excited to know someone! We teamed up on some of the exercises. One of the exercises was goal setting and I wrote a goal of asking Nicole if she would do me the honor of painting a Dolphin Commemorative painting illustrating two dolphins swimming one arched above the other to illustrate my husband in the sea for eternity. This idea was born out of my husband's unique ability as a dolphin whisper. When Hans was around Dolphins they would swim to him, circle him and truly communicate with him. My husband had a real affinity with dolphins and we both dedicated much of our work to helping make the ocean's and planet more sustainable and environmentally friendly. Well when it came time to ask Nicole I "chickened out." Nicole is such a gifted painter, I was lacking the courage to ask her. We were working on the goal setting exercise later that day and just then the instructor excitedly yelled out, "Everyone go to the patio balcony and look at the sea!" Nicole and I went to the balcony and there swimming in the ocean was a magnificent pod of dolphins happily swimming in the sea! I looked at Nicole and pointed at my pad of paper at what I had written: Ask Nicole Buffett if she will paint a dolphin commemorative.
Nicole said: "Yes, I will happily do that!"
With a tear in my eye I thanked her and the plan was developed for Nicole to paint the Dolphin Commemorative. When she finished I was absolutely astounded with the utter beauty of Nicole's immense talent and Dolphin Commemorative painting. Nicole even wrote a poem that is proudly written and signed by hand by Nicole:
In Honor of Hans
Remembering Laughter ~
Remembering Love ~
Remembering Joy ~
Remembering you.
Infinite Love
XOXO, Nicole
I stared at the painting for 3 years and each and every day it has brought me so much joy! And then in 2021 I had the idea of turning the Dolphin Commemorative Painting into a NFT! I reached out to Nicole and she was supportive and encouraging. I then reached out to Dr. Martin Wainstein, Executive Director, Open Earth Foundation and he was also interested. He told me he has a Marine BioDiversity Program that the proceeds could benefit in support of dolphins and marine life by Cocos Island! All of it was a miracle of miracles!
And here we are today with the Dolphin Commemorative Artwork getting ready to be part of the Ocean Drop! I feel Hans smiling all the way from heaven about this!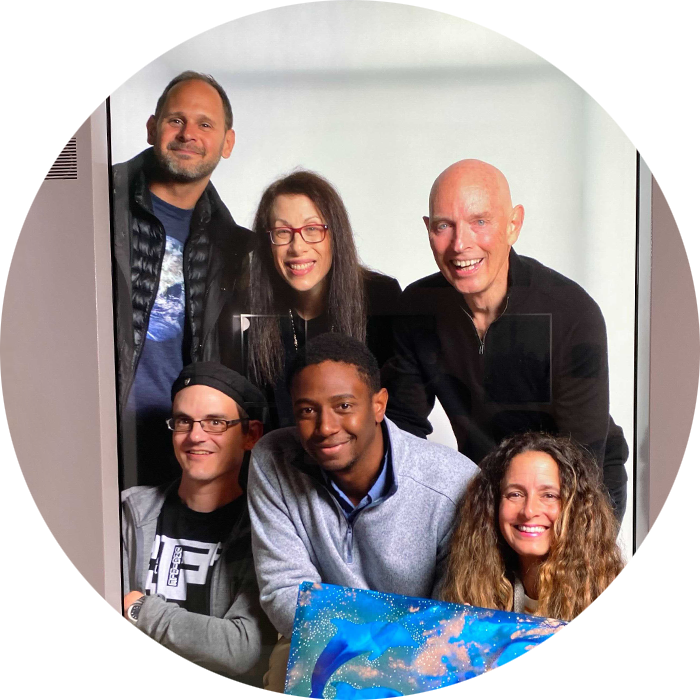 From Nicole Buffett, Artist of the Dolphin Commemorative Painting
The Dolphin Commemorative Painting
When my friend and fellow seeker/mystic Molly Lavik asked me to create a painting of dolphins in honor of her late husband, I was honored and elated by the challenge I was given. Capturing the beauty of these creatures was no small feat, but one that I was ecstatic to take on. I hadn't created anything figurative in quite some time so I started with the focus on the water element itself- the deep blue magical home of our fellow mammals, the dolphins.
I began to recall the powerful experiences I personally had with dolphins. It was many years ago while on a family vacation to Hawaii with a group of dolphins who were captive as a tourist attraction. Somehow, my twin sister and I had gotten into the area where they were kept at night–quite off limits and against the rules, we saw them swimming in their man-made "lagoon". As we approached the water's edge, a significant group of the dolphins swam right over to us. We were so surprised to find how excited they were to have us there outside of the typical "swimming pool photo op moment" we had actually had a few days prior- so hey!
I guess they kind of knew us by name, wink wink*.
As we began to have physical contact with them, it became apparent that these dolphins were really excited to have us interacting with them! They were not engaging because they had to– they were engaging because they wanted to.

As my sister and I splashed around touching and connecting, there were moments when the dolphin's bodies were almost completely out of the water letting us give them near full body hugs with them laying completely on top of us. There was also lots* of kissing. It was getting quite steamy! Once we had made it to pretty much 2nd base with this pod of lonely lovers, that's when they started to get jealous. They were pushing and ramming themselves into each other making sure they were the next one up for a kiss and chakra clearing tantric exchange.   Kissing them I felt as though there was an electrical current running through my entire body. It felt like a cleansing and clearing charge of pure love.
As we began to say our goodbyes for fear of getting caught in our criminal affair, we kissed one last time and was forever changed. They had left me with a few key pieces of information not just about them, but mostly about US. The take away gift from the dolphins was to remember that WE are made of light, a living and loving light. That light is the fabric of life itself, on land or sea, that we are fantastically and unequivocally electric beings.
As I completed the dolphin painting, it was as if with each moment that the painting came into materialization, I remembered and activated the energetic gift they gave me. The making of The Dolphin Commemorative seeks to transmit the awe and immense beauty of what we call Dolphin. My deepest wish and hope for the Dolphin Commemorative NFT created for The Open Earth Foundation is to bring awareness, appreciation and true support to preserve, uphold and celebrate these fantastic creatures. May this be the beginning of a new love affair with our brother and sister dolphins ushering us into a deeply intimate new and much needed time of healing with sacred Mother Earth and our vast and luminous realm we call Ocean.
With Gratitude and Joy,
Nicole Buffett
HEAL OUR DOLPHINS!  HEAL OUR OCEANS!