OceanDrop will raise funds to launch a new innovative program: OpenOcean. The program will pilot a project in Cocos Island, Costa Rica to support our partners expanding the Marine Protected Area. The efforts made by the Open Earth Foundation and partners will lead to innovative solutions to marine threats and preserve the ocean and its inhabitants.
of the funds will be directed to the core research and open source digital product development.
of the funds will support operations for the Cocos Island pilot project, including supporting the local non-governmental organisations and Park Ranger operations.
of the administrative overhead will be covered by the Open Earth Foundation in order to maximize the impact of the funds raised.
OpenOcean will research and implement solutions to help protect the ocean and conserve native wildlife. Through the development of blockchain based and open digital infrastructure, OpenOcean will improve and scale the management of marine protected areas and research innovative solutions to worldwide marine threats.
OpenOcean entails creating a digital platform capable of integrating all relevant information systems in a nested hierarchical way to boost the intelligence and automation capacity of the conservation strategy. A common digital protocol would allow sensors, databases, people, drones, and rules to interact and coordinate.
A pilot project for OpenOcean will start in Cocos Island, a UNESCO World Heritage Site and National Marine Park. The island is off of the coast of Costa Rica and home to a diverse marine ecosystem. The waters here are one of the best conserved marine tropical waters in the world, home to sharks, rays, dolphins, and one of the most diverse coral reefs. The pilot project will expand the marine conservation area and no-take zone, increasing protection for the marine ecosystem and its inhabitants.
The waters are pristine, diverse, and unique making the island an exceptional baseline for scientific study. We will collaborate with the Costa Rican government and its National Park services, local non-governmental organization, FAICO, and international actors such as Blue Nature Alliance, Conservation International and Global Fishing Watch.
The primary threats to marine life and the ocean are:
Illegal fishing
Overfishing and bycatch
Ocean garbage
Agricultural runoff
Invasive species
And climate change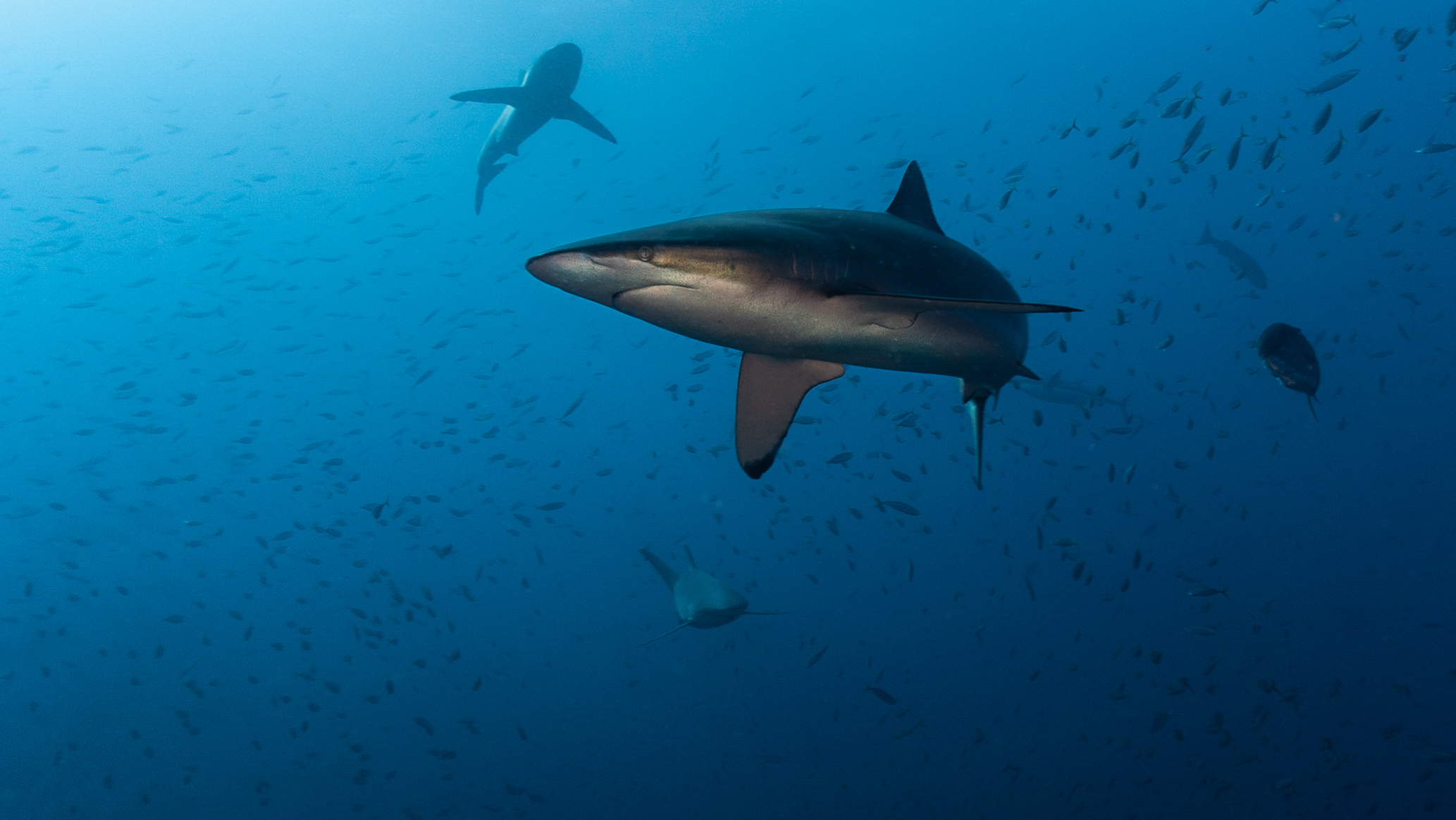 We can monitor both the health of and finance a marine conservation area through the creation of ecosystem service credits. An ecosystem service is any benefit humans, animals, and other species receive from the ocean and wildlife such as food, the beauty of the ocean, ocean related jobs and seeing charismatic creatures. These ecosystem services can be decreased over time due to overfishing, decreasing available food, or poaching protected species, such as hammerhead sharks.
Upon defining a baseline of how the ecosystem services are being decreased through time and human use, a conservation program that is successfully able to increase the services, which are monitored and verified through approved methodologies, can receive credits that can hold financial value. This could be for example through protection of fish stocks and population numbers through better fisheries management. These credits can be best applied towards outcome-based conservation financing; the conservation program receives funds upon successful regeneration or protection of ecosystem services.
A primary opportunity entails creating a digital platform capable of integrating all relevant information systems in a nested hierarchical way, which can then boost the intelligence and automation capacity of the conservation strategies. This entails using a common digital protocol so that multiple digital agents (i.e. sensors, databases, people, drones, rules) can interact and coordinate.
To improve detection and response of marine use, digital coordination of information and response from different agents and platforms will allow robust data trails to be produced when reporting suspicious activity or infractions. The ability to self-execute enforcement contracts to the detected vehicle or registered company is a possibility.
This can be done, for example, with a conservation drone hub as a floating solar powered vessel that hosts an aerial drone. These can then be deployed for inspections and verification upon automatic detection of an infraction by remote sensing.
Disclosing and monitoring bycatch in fishing operations is important for both conservation of fisheries as well as enforcing rules against fishing of protected species. Cameras attached to fishing vessels equipped with machine learning have been piloted globally with the aim to detect suspicious activity or bycatch.
These systems may be hard to adopt given fishermen may resist control. However, advances in cryptography now allow for decentralized data processing, without centralizing information on the cloud, and only provide information in cases a proven infraction is detected, thus allowing transparency to regulators whilst maintaining business privacy.
180 Cameras w/Al-power pattern recognition — ZKP agent (zero-knowledge proof)
Through blockchain-based smart contracts enforcement can be automated and integrated to multi-source oracles. Applied to conservation, this means that once a single surveillance agent detects an infraction (eg. a ground data), the system receives information from other surveillance points (eg. satellite, drones etc), and based on the accepted rules for that area, can trigger a legal case against the ship or company with all gathered evidence properly integrated.
How can our innovative solutions help the ocean?
At the Open Earth Foundation we aim to protect the ocean and its inhabitants. Through research and innovation, partnerships and collaborations, we will be able to create advanced monitoring systems for ocean activity such as fishing, recreation use, and illegal use.
Working with governments, national park services and non-governmental organizations we can identify key challenges in the expansion and management of Marine Protected Areas. Identifying these challenges and collaborating allows us to develop freely available tools designed to better manage conserved areas.
We will be able to protect the ocean and species through regulation and automatic remote digital monitoring and infraction systems through research and deployment of blockchain-based smart contracts.
The proceeds of the OceanDrop will fund necessary research and deployment of advanced technologies, creating a multidisciplinary approach to marine conservation and management. The OceanDrop will protect the ocean and its inhabitants, providing protection for the future.